The AppStore is an app on your phone used for buying other apps, that don't come with the phone, which cost robux. There is currently only one app on the AppStore that you can buy. More apps will be added in the future, most likely.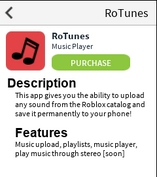 In order to access the AppStore, select the icon on the 1st page of your phone, shown on the right. Then you will be greeted with a list of available apps for you to purchase.
Select the one you're interested in, and a screen will pop up listing the description and features, as well as the option to purchase the app, which you can do by selecting the big green "Purchase" button.
Apps
| App Name | Description | Features | Cost | Image |
| --- | --- | --- | --- | --- |
| RoTunes | This app gives you the ability to upload any sound from the ROBLOX catalog and save it permanently to your phone! | Music upload, playlists, music player, player music through stereo [soon]. | 150R | |
Have something to add? Feel free to contribute!