The the 5th most expensive Blueprint in the game RoCitizens.
It Cost's 110000$
Exterior
The,exterior of the build,has a fancy kind of looking styled mansion. The mansion was currently, as you can see there's a little pool by the right. There's currently a chimney, a pond, a car parking little space. It has a saltbox kind of styled roof. The Luxury Cabin usually has a little fireplace. Which can be used for role-playing property.
Interior
The, interior of the build has 2 Floor's. the 1st floor and the 2nd floor.
4 Bedroom's
2 Bathroom's
1 Kitchen
1 Living-room
1st Floor.
The first floor includes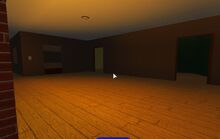 2 Bed-Room's
1 Bathroom
1 Kitchen
2nd Floor.
The, second floor includes these room's