Paghetti's is a building in RoCitizens. This building is closed for renovation, for about a month and a half.
Location
Paghetti's is near the spawn park. In the back of it is the Highway 73 , and in front it is, well, the restaurant parking lot. To the left of it is the AMC Movie Theatre, and to the right of it is the Criminal Hideout a.k.a. the Night Club Storage.
Exterior
The Exterior is a typical restaurant. There is a white glowing sign that reads "Paghetti's", and two poles holding it up. There is one window on each side of the doors. On the right wall, there is one window. It then leads to another wall with no windows, just a locked door. Turn right again, and there is another wall with no windows. When you turn again, there are no windows until about the end of the wall, where there are two windows. Turn left again, and there are no windows on that wall until the very end, in which there are four. All the walls are red, and the outline of the windows are grey. The doors are glass doors with a black pole in the middle, and each door reads "Closed for Renovation until July 31st". These doors can't be opened.
Interior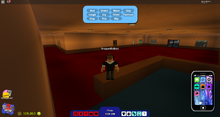 The interior is a typical restaurant . The floor is a red carpet, and the walls and roof are brown. There are eighteen lights in total on the ceiling. At the end of the restaurant, there is a small hallway with restrooms. The restrooms are empty right now. It may open in the update. At the entrance, you can see a counter and two doors. These doors lead you to a Chinese Banquet Hall. In the another room, there were seats and tables that should be in the main room. It looks like a storage. The kitchen is unaccessble right now, but later after it opened, it will house a new job---Chef.