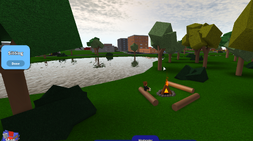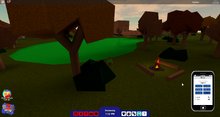 The Ro-City lake is besides the highway, near the housing property, right behind Bailley's Store.This place has a campfire pit and a lake where player can swim.This is the place where many players come during night time to share horror stories.This lake is connected with the river.
The water of lake was changed to radioactive green color during Halloween update.
Trivia
This lake was not supposed to be frozen during the 2016 Christmas update along with the drivers, which gave the cars ability to drive over it. However, the wheels of the car get stuck a the edge of the lake.Then you will have to spawn it again
This place is used in one of the thumbnails for the game.
In 2016 Halloween update, the river of water has been changed to radio active green color.